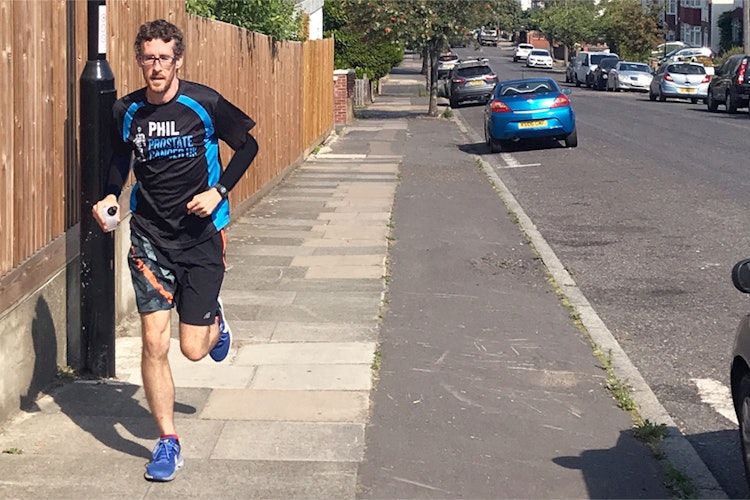 Take on Run the Month: Marathon Edition this July
Run the Month: Marathon Edition is a virtual challenge for runners, joggers, walkers and wheelers everywhere of all abilities. Throughout July, run 26.2 miles your way, whether it's a mile at a time or two half marathons throughout the month. Sign up and raise money to fund lifesaving research and support services for men and their families affected by prostate cancer - a cancer which affects 1 in 8 men in their lifetimes. 
Take on the challenge alone or in a team. Track and share your progress using Strava. Watch the miles build up and the donations rush in. Whether you've recently completed Couch to 5K or have dug out your trainers for the first time in a while, Run the Month this July and help save men's lives. 
The money you raise by taking on Run the Month: Marathon Edition will support men like Barry and his family.
After seeing her father, Barry, cope with the devastation of a prostate cancer diagnosis, Kim and eighteen members of her family took on Run the Month: Marathon Edition back in January. 
"Dad was first diagnosed with prostate cancer in December 2019 and because of Covid-19 his treatment was postponed until June 2020. I couldn't even be there to support him during this time with lockdown, which was heart-wrenching.
"That's why Run the Month: Marathon Edition was so important to me and the rest of my family. This challenge was the perfect opportunity to do something great together (even with three people living abroad!), get fit and support Dad. Some of us ran, some of us walked, some of us did multiple marathons during the month. Any way we chose to do the challenge, we knew we'd be helping Dad.
"Even though Dad's doing better now, he's still dealing with side effects of the treatment every single day. The money you raise will be helping to fund Prostate Cancer UK researchers to find improved treatments with less side effects and better ways to diagnose the disease in the first place, for other men like him."